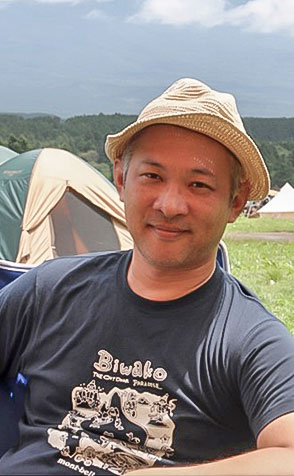 Since childhood, I had always liked gadgets and computers with new technologies. When I was in junior high, I got my first computer, the PC8001mk2, and later, the PC9801RX2. In my adulthood, I bought the Perfoma588, the Libretto50, the HP200LX and others. I was so excited every time I purchased a computer that was slightly weird for that era.
These computers, and nowadays everything else, are connected by the Internet and our view to the world has become larger, offering many services that get me even more excited.
Cars that used to just move, turn and stop, are now becoming connected as a result of IT components, and will soon become one of the most important assets of our networked society, just like PCs.
I would like to think of services that can be created by connecting cars to networks as devices, in the same way as how the Internet brought life to services for PCs. Through testing and providing these services, I know that I will get even more thrilled, and I would like to share that feeling with you as well.
Department

Commercial MaaS Development Dept.,
Commercial Mobility Apps Development Div.

Biography

2013-

Responsible for big data processing, exploring leading technologies and planning new society-level systems. After a posting at Toyota Motor Corporation, I am currently responsible for research and development on new technologies for society-level systems.

2004-
2013

Consultant on financial systems. Also responsible for planning solutions and project management.

1998-
2004

Research and development on Japanese NLP in AI at a startup in Toronto, Ontario, Canada.

1996-
1998

Responsible for technological support for ISP sales promotion at a systems developer.

1996

Received an M.Eng.

Publication List/Conference presentation

Paper

Driving behaviour analysis by using Bag of Systems / Kashiwakura, Sannomiya, Tanaka, Kurihara, Nawa
(Forum on Information Technology 2015 - Information Technology Society of Japan / The Institute of Electronics, Information and Communication Engineers)

Conference presentation

Raku-Raku Car / Kashiwakura
(HyperNetwork Beppu Bay Conference 2015)