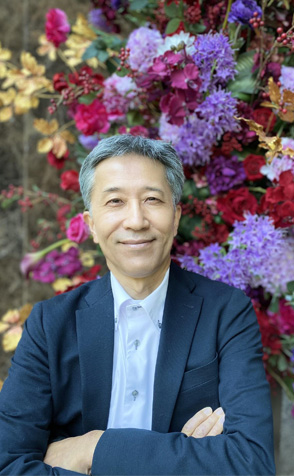 Toshihiro Tanizawa
Condenced Matter Theory (Phase Transition)
Complex Network Theory
Time Series Analysis
After completing Ph.D. work on quantum tunneling probability through a time dependent external potential, I came across an emerging new research field, network science, which had been developing on the intersection of statistics, statistical physics, data science and numerical simulations, during my stay at Center for Polymer Studies of Boston University from 2003 to 2004. Since then I have been working on various theoretical topics in network science.
I have been also working on development of a new method of multivariate time series data analysis. This method is based on statistical modeling of time series data and its network visualization, by which the knoledge of network science can be used in data mining.
Based on this research background, I am now engaged in constructing basic theory of big data analysis and robustness analysis of a composite of multi systems at InfoTech, TMC.
Department

Connected Company
InfoTech,
Connected Advanced Development Div.

Biography

Ph.D. (Physics)

2021

Join in Toyota Motor Corporation
Professor Emeritus of National Institute of Technology, Kochi College (NITK)

2020-
2021

Vice President of NITK (Director of Research and Project Affairs)

2018-
2020

Dean of the Department of Social Design Engineering, NITK

2013-
2018

Dean of the Department of Electrical and Information Engineering, NITK

2012

Professor of the Department of Electrical and Information Engineering, NITK

2007-
2012

Associate Professor of the Department of Electrical and Information Engineering, NITK
From 2009 to 2010, stayed at Graduate School of Information Science and Technology, University of Tokyo as a visiting researcher of Ministry of Education, Culture, Sports, Science and Technology (MEXT)

2000-
2007

Associate Professor of the Department of Electrical Engineering, NITK
From 2003 to 2004, stayed at Center for Polymer Studies, Boston University as a visiting researcher of MEXT

1998

Lecturer of the Department of Electrical and Information Engineering, NITK

1998

Ph.D. (Physics) from Kyoto University
Toshihiro Tanizawa: "Quantum Tunneling Rate through an Inverted Parabola with an Oscillating External Field ---an Analysis Using the Exact Feynman Kernel---"

Publication List/Conference presentation

Publication List

Detecting the relationships among multivariate time series using reduced auto-regressive modeling, Frontiers Media S.A., Frontiers in Network Physiology, 2022

Tomomichi Nakamura, Michael Small, and Toshihiro Tanizawa, "Long-range correlation properties of stationary linear models with mixed periodicities," Physical Review E, Vol.~99, 022128 (2019).

Toshihiro Tanizawa, Tomomichi Nakamura, Fumihiko Taya and Michael Small, "Constructing directed networks from multivariate time series using linear modelling technique," Physica A: Statistical Mechanics and Its Applications, 512, 437-455 (2018).

Shogo Mizutaka and Toshihiro Tanizawa: "Robustness Analysis of Bimodal Networks in the Whole Range of Degree Correlation," Physical Review E, Vol.~94, 022308 (2016).

Tomomichi Nakamura, Toshihiro Tanizawa, and Michael Small: "Constructing networks from a dynamical system perspective for multivariate nonlinear time series," Physical Review E, Vol.~93, 032323 (2016).

Ryo Murakami, Tomomichi Nakamura, Shin Kimura, Masashi Manabe, and Toshihiro Tanizawa: "On possible origins of trends in financial market price changes," Physica A, 420, pp.179-189 (2015).

Genki Ichinose, Yuto Tenguishi, and Toshihiro Tanizawa: "Robustness of cooperation on scale-free networks under continuous topological change," Physical Review E, Vol. 88, 052808 (2013).

Tomomichi Nakamura and Toshihiro Tanizawa: "Networks with time structure from time series," Physica A, Vol. 391, pp. 4704--4710 (2012).

Toshihiro Tanizawa, Shlomo Havlin, and H. Eugene Stanley: "Robustness of onionlike correlated networks against targeted attacks," Physical Review E, Vol. 85, 046109 (2012).

T. Tanizawa, G. Paul, S. Havlin, and H. E. Stanley: "Optimization of the robustness of multimodal networks," Physical Review E, Vol. 74, 016125 (2006).

T. Tanizawa, G. Paul, R. Cohen, S. Havlin, And H. E. Stanley:"Optimization of Network Robustness to Waves of Targeted and Random Attacks," Physical Review E, Vol. 71, 047101 (2005).

G. Paul, T. Tanizawa, S. Havlin, and H. E. Stanley: "Optimization of robustness of complex networks," European Physics Journal B, Vol. 38, pp. 187--191 (2004).

Books

Analysis in complex networks with Python ---Approach from the relationship among data---," written in Japanese by Yukio Hayashi, Toshihiro Tanizawa, Tomomi Kitoh, Hiroshi Okamoto, Kindai Kagaku Sha (Nov, 2019), ISBN-13: 978-4764906020.

Albert-Laszlo Barabasi: "Network Science" translated to Japanese by Yusuke Ikeda, Hiroyasu Inoue, and Toshihiro Tanizawa, Kyoritsu Shuppan (Feb 2019), ISBN: 978-4-320-12447-9

Toshihiro Tanizawa: "Network Science in Your Pocket", Ch. 12 of "Network Science In Education", Eds. Cramer, C., Porter, M.A., Sayama, H., Sheetz, L., Uzzo, S.M., pp. 189-199, Springer International Publishing (2018), DOI: 10.1007/978-3-319-77237-0, ISBN: 978-3-319-77236-3

International Conferences

Ego-Vehicle Action Recognition based on Semi-Supervised Graph Contrastive Learning, IEEE/CVF, Winter Conference on Applications of Computer Vision (WACV) 2023

Toyota Super-massive Data processing Baseline: 5 topics, Woven Planet Holdings, Toyota Global AI summit 2021

Toshihiro Tanizawa, "Percolation transition on scale-free networks with strong degree assortativity," NetSciX-Tokyo (Main Conference), Waseda University International Conference Center, Tokyo, Japan, Jan 20-22, 2020.

Tomomichi Nakamura and Toshihiro Tanizawa, "Constructing networks for multivariate nonlinear and nonstationary time series," NetSciX-Tokyo (Main Conference), Waseda University International Conference Center, Tokyo, Japan, Jan 20-22, 2020.

Toshihiro Tanizawa, "Percolation on scale-free networks with assortative degree correlation," NetSci2019 (Main Conference), Davis Center, University of Vermont, VT, USA, May 27-31, 2019.

Toshihiro Tanizawa, "The GitHub Project, Network Science in Your Pokect," NetSciEd2019, Williams Family Room, Davis Center, University of Vermont, VT, USA, May 13, 2019.

Toshihiro Tanizawa, "Constructing directed networks from multivariate time series using linear modeling technique," CompleNet'19, El Seminari Tarraconense, Tarragona, Spain, Mar 20, 2019.

Toshihiro Tanizawa, "Percolation transition on scale-free networks with assortative degree correlation," Complex Networks 2018, University of Cambridge, Cambridge, UK, Dec 13, 2018.

Toshihiro Tanizawa, "Building Web contents for the Project, 'Network Science in Your Pocket'", NetSciEd2018 (Satellite Meeting of NetSci2018, International School and Conference on Network Science), L'ecole de Musique, Paris, France, June 12, 2018.

Toshihiro Tanizawa, Tomomichi Nakamura, and Michael Small, "Constructing networks from multivariate time series data", First International Summer Institute on Network Physiology (ISINP), Lake Como School of Advanced Studies, Como, Italy, July 24-29, 2017

Toshihiro Tanizawa, Tomomichi Nakamura, and Michael Small, "Constructing directed networks from multivariate time series via linear modeling technique", International School and Conference on Network Science (NetSci2017), JW Marriott Indianapolis, Indianapolis, IN, USA, June, 21-23, 2017

Toshihiro Tanizawa, "Network Science in Your Pocket!", NetSciEd6 (Satellite Meeting of NetSci2017, International School and Conference on Network Science), JW Marriott Indianapolis, Indianapolis, IN, USA, June, 20, 2017.

Tomomichi Nakamura, Toshihiro Tanizawa, and Michael Small, "On constructing networks from multivariate nonlinear time series," NOLTA2016 (2016 International Symposium on Nonlinear Theory and its Applications), Yugawara, Japan, 27-30, November, 2016.

Toshihiro Tanizawa and Shogo Mizutaka, "Exact Calculation of Robustness Properties of Correlated Bimodal Networks", NetSci2016 (International School and Conference on Network Science), the K-Hotel, Seoul, South Korea, 2 June, 2016 (selected as an oral presentation).

Genki Ichinose, Yoshiki Satotani, and Toshihiro Tanizawa, "Rapid Improvement of Robustness to Existing Networks without Optimal Algorithms," NetSci2016 (International School and Conference on Network Science), the K-Hotel, Seoul, South Korea, 1-2 June, 2016 (selected as an poster presentation).

Toshihiro Tanizawa, "A Hands-On Network Science Course for Undergraduate Students in Japan," NetSciEd5 (Satellite Meeting of NetSci2016, International School and Conference on Network Science), the K-Hotel, Seoul, South Korea, 31 May, 2016.

Toshihhiro Tanizawa, Tomomichi Nakamura, and Michael Small, "On constructing networks from multivariate nonlinear time series," Network Science Research in Asia (Satellite Meeting of NetSci2016, International School and Conference on Network Science), the K-Hotel, Seoul, South Korea, 30 May, 2016.

Tomomochi Nakamura and Toshihiro Tanizawa: "On Constructing Networks from Multivariate Time Series", NOLTA2015 (2015 International Symposium on Nonlinear Theory and its Applications), Hong Kong, China, Dec 2-4, 2015.

Tomomichi Nakamura and Toshihiro Tanizawa: "On possible origins of trends produced by human choices -- the case of financial market price changes --", SMSEC2014 (Social Modeling and Simulations + Econophysics Colloquium 2014), Nichii Gakkan, Kobe, Japan,p Nov 5, 2014.

Toshihiro Tanizawa: "Convolutional collapse in multiplex random regular graphs," NetSciSat2014 (Physics of Multilayered Interconnected Networks, Satellite Meeting in NetSci2014), UC Berkeley, CA, USA, Jun 2, 2014.

Toshihiro Tanizawa: "the Variety in Selection of Topics for Network Science Research in a National College of Technology in Japan," NetSciEd3 (Satellite Meeting in NetSci2014), UC Berkeley, CA, USA, Jun 2, 2014.

Toshihiro Tanizawa and Tomomichi Nakamura: "Applications of a method of constructing networks based on time series model," NOLTA2013 (2013 International Symposium on Nonlinear Theory and its Applications), Santa Fe, NM, USA, Sep 9--11, 2013.

Toshihiro Tanizawa and Tomomichi Nakamura: "A New Network Visualization Method of Time Series Data," NetSci2013 (International School and Conference on Network Science, 2013), the Royal Library, Copenhagen, Denmark, Jun 5--7, 2013 (Selected as an oral presentation).

Genki Ichinose and Toshihiro Tanizawa: "Robustness of cooperation on networks under continuous topological changes," STCAN2013 (NetSci Satellite Symposium on State-Topology Coevolution in Adaptive Networks), Technical University of Copenhagen, Copenhagen, Denmark, Jun 3, 2013.

Toshihiro Tanizawa: "Introducing Network Science to Students in a National College of Technology in Japan for Graduation Research Projects," NetSciEd2 (Satellite Symposium on Network Science inp Education), Technical University of Copenhagen, Copenhagen, Denmaprk, Jun 3, 2013.

Genki Ichinose, Yuto Tenguishi, and Toshihiro Tanizawa: "Evolution of cooperation on networks under continuous removal and addition of nodes," SCIS-ISIS 2012 (The 6th International Conference on Soft Computing and Intelligent Systems and The 13th International Symposium on Advanced Intelligent Systems), Kobe International Conference Center, Kobe, Hyogo, Japan, Nov 20--24, 2012.

Toshihiro Tanizawa, Shlomo Havlin, and H. Eugene Stanley: "Analytical Approach to the Robustness of Strongly Correlated Complex Networks," special session on complex network science in NOLTA2012 (International Symposium on Nonlinear Theory and its Applications), Gran Melia Victoria, Palma, Majorca, Spain, Oct 22--26, 2012.

Toshihiro Tanizawa, Shlomo Havlin, and H. Eugene Stanley: "Robustness of onion-like correlated networks against targeted attacks," NetSci2012 (The International School and Conference on Network Science), Northwestern University, Evanston, Illinois, USA, Jun 20--22, 2012, (reviewed and selected as a contributed talk).

Toshihiro Tanizawa and Tomomichi Nakamura: "Complex network from time series," the Proceedings of 2011 International Symposium on Nonlinear Theory and its Applications (NOLTA2011), Kobe, Japan, Sept 4--7, 2011, pp.690--692 (2011).

T. Tanizawa, S. Havlin, and H. E. Stanley: "Analytical study of the robustness of scale-free networks with degree-degree correlation against targeted node removal," NetSci2010 (The International School and Conference on Network Science), Massachusetts Institute of Technology, Cambridge, Massachusetts, USA, May 12--14, 2010, (Refereed).

T. Tanizawa, G. Paul, S. Havlin, and H. E. Stanley: "Structural Optimization of Complex Networks," at a satellite conference of STATPHYS23, "Complex Networks: from Biology to Information Technology," Pula, Cagliari, Italy, Jul 2--6, 2007.

Commendation/Memberships

Physical Society of Japan

American Physical Society